There aren't a lot of updates this week on the house.  We did decide to change the floor plan slightly which is much more functional and flows better with our furniture.
I really hope we can secure a building contract soon…..FINGERS CROSSED!  Now I know why some people prefer to walk into a model home center and pick out a pre-designed house.  It's just easier!
But, I won't do that.  I have designed this house in my head for years.  I know what I want and although I will be sacrificing on many things, I must keep going.
As the builder puts together a contract for us, he wants to know about things that we want in the home like metal roof vs shingle, or granite vs quartz, or …..TILE VS VINYL?
And that's what we will talk about today, FLOORING!
5 Reasons to Choose Luxury Vinyl Plank Flooring for Your Home
The new HOT product in the design world is LUXURY VINYL PLANK (LVP).  Some call it LUXURY VINYL TILE (LVT) but either way it's the fastest growing thing in the flooring industry.  Check out the many reasons why we are considering this for our new home.
1. It's Beautiful!
The idea is that these are designed to look and feel like real hardwoods.  It's engineered to show texture and and character.  Most people would not guess that these aren't real!
This goes perfectly with any decor including my farmhouse style. Don't you find the look of wood so warm and inviting?
2. Easy to Install
The good news? You can install this stuff OVER most existing floors.  Just make sure your area is smooth.  Now for the easy part….THEY SNAP TOGETHER! Most people are able to complete a big space in a small amount of time.
(Tip: Some prefer the styles with a cork backing.  No underlayment, easy on the feet, and a quiet sound)
(TIP: You can choose a brand that does NOT have to acclimate to your home's temperature before installation.)
3. It's Inexpensive
We started searching for other flooring options when we were budgeting the cost of our new home build.  Flooring is expensive y'all!
Although we enjoy the wood-looking tile that we currently have in our home, it would be very expensive to use this in our new place.  We were introduced to this vinyl plank idea after hearing about it from other decor enthusiasts.
Our local flooring retailer has it priced from $2.99/sq ft down to $0.74/sq ft. I mean you just can't beat that pricing!  (My wood looking tile floors were definitely more than that plus the hired labor to have it installed!)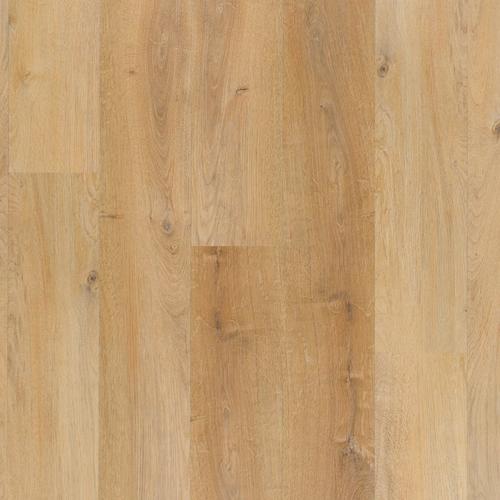 4. It's Durable
We have kids and a dog.  That's it.  That's all I need to say.
My friends that have used luxury vinyl plank tell me this stuff is tough as nails.  And in our home it has to be!  We've got 3 kids and a dog mess-makers and we actually want to LIVE in our house! We do not want something that we are scared to use.
Many manufacturers sell it as scratch resistant, water resistant, and some go as far as saying water proof.   Most are engineered to have a real wood texture, so if you do accidently put a scratch or mark in it…..who cares?  You won't notice. This makes it a great choice for high traffic areas such as kitchens, bathrooms, and laundry rooms.
I mean those are some big claims that this family of 5 could put to the test in just a few short minutes!
Love and Renovations gives a great review here!
5. Easy to Clean
First off, I have to say things like "be sure to read the manufacturer's instructions on how to care for the particular flooring you have purchased".  Each brand may offer different care instructions so please read them!
Now let's move on to some suggestions…
A quick vacuum is the best way to get any of the dirt that might fall between the little cracks where the planks join together. Just make sure you are using something soft. Next, it's recommended to use a neutral cleaner.  You don't want to use any harsh chemicals. Some people really swear on water and vinegar  (because vinegar cleans everything, right?) 
Now that you've learned WHY you should choose this flooring, you're probably wondering which brand to buy.
Check out this great article from The Spruce for a great comparison of the options.
5 Best Luxury Vinyl Plank Floors for Your Home
Do you have luxury vinyl plank in your home? Did you install it yourself? Is it everything you hoped it would be?